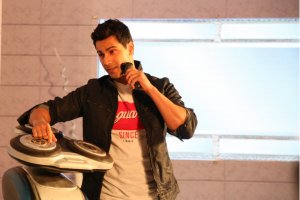 VARUN DHAWAN FOR PHILIPS: BRINGS A 'NEW WAY OF SHAVING' WITH NEW PHILIPS AQUATOUCH
Philips India, the brand that has been driving the way India styles itself, is now set to take its mission to the next level. With the intent of empowering the youth to express themselves freely through their personal style, Philips has created brand new categories in the market including beard trimming, and bodygrooming for men, depilation for women and many more. It is now leading the change from manual to electric shaving-a faster, easier and more skin-friendly way of shaving for the modern man. To further encourage men to adopt the 'new way of shaving', Philips India today announced, Varun Dhawan, a popular Bollywood actor and country's heartthrob, as the brand ambassador for its Shaving category. Varun Dhawan will help drive the transition to the 'new way of shaving', to support which, he unveiled a new electric shaving wizard Philips AquaTouch – Wet and Dry Electric Shaver, which protects skin 10 times better versus a regular blade while giving a refreshing shaving experience. Varun will play a pivotal role in the brand and product communication across media platforms. Philips India will continue to focus on its trimming and bodygrooming business as well, with Bollywood Style icon Arjun Kapoor as the brand ambassador, while further strengthening the Shaving business with Varun Dhawan's endorsement.
Following this announcement, Philips India will also launch an extensive marketing campaign with Varun Dhawan starting with a TVC that will go on air on 16th July, 2015.The TVC has been conceptualized and created by Ogilvy & Mather.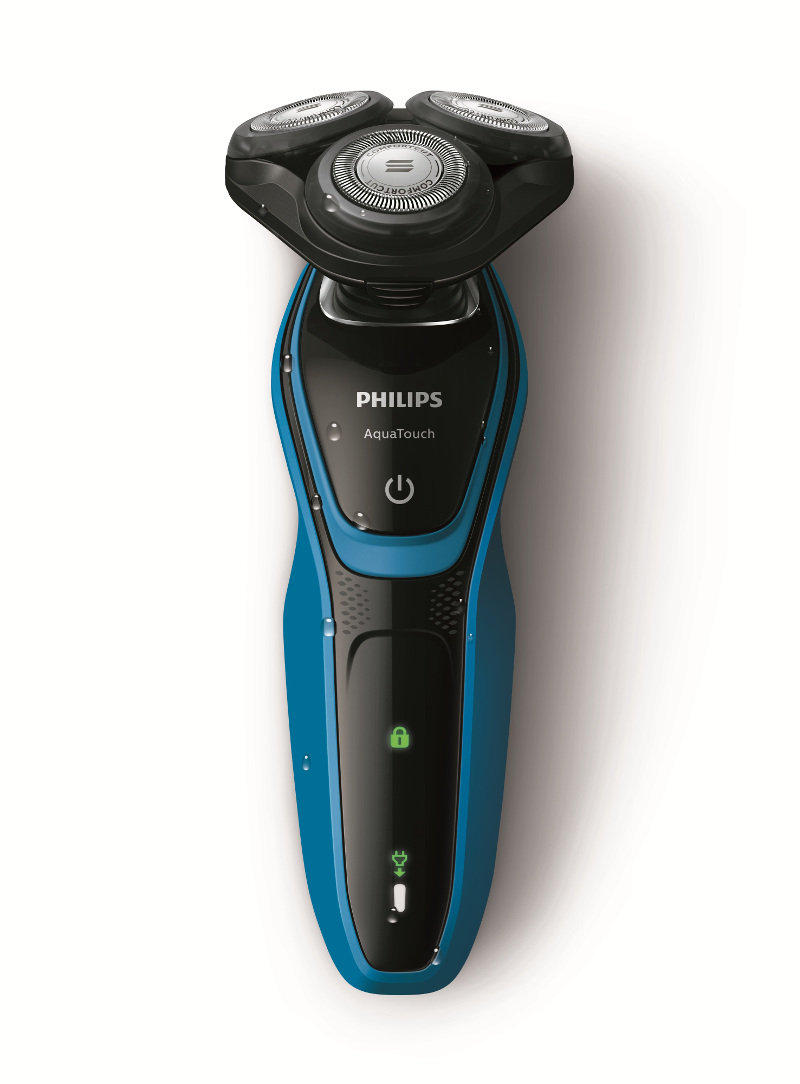 With the introduction of Varun Dhawan, Philips India's Personal Care business will now have 3 strong faces representing different product categories. Arjun Kapoor, who represents the young, cool, casual Indian, and will endorse the Trimming and body grooming business, Varun Dhawan, who represents the more mature modern man conscious about his grooming, yet concerned about his skin, will endorse the Shaving range. Alia Bhatt, who represents the young woman of today who wants the power to be ready for all occasions in her own hands, will endorse the Beauty appliances range including haircare and depilation gadgets for Philips India.
On the introduction of the newest brand ambassador for Philips Male Grooming, Mr. ADA Ratnam, President – Personal Health, Philips India, said, "Manual shaving is a thing of the past and we have been leading the shift to electric shaving over the years. The modern man of today wants a no-mess, skin-friendly, modern solution for his shaving needs and that's what we promise to deliver with the Aquatouch. Varun Dhawan exemplifies the modern man – suave, confident and well-groomed. Who better than him to endorse the new shavers range that is designed for all the men to get the perfect shave without any nicks and cuts!"
Excited about his association with Philips for the shaving category, Varun Dhawan, said, "Philips is a brand that has led the male grooming revolution in India over the years. I have been a user of Philips shavers for years now, be it my first Norelco shaver that I bought during my trips abroad or the new Aquatouch which is my latest favorite. It is a brand I believe in and one that represents what the modern man of today wants. I am very excited to be associated with Philips Shaving range."
With the latest technology and innovation, Philips Personal Care range of styling gadgets allow consumers to create their own personal style, or keep up with the hottest trends in grooming. These styling tools have been specifically designed to give the confidence to achieve any look one desires and express themselves through personal style. The power to just be themselves. Philips offers electronic shavers, trimmers, hair clippers and bodygroomers for men; and a range of hairstyling gadgets including dryers, straighteners, and stylers as well as an extensive range of epilators for women. Philips Personal Care, is now endorsed by three young and upcoming stars; newest brand ambassador Varun Dhawan for Philips Shaving; Arjun Kapoor for trimming and bodygrooming; and the young and fashionable Alia Bhatt is the brand ambassador for Philips Beauty.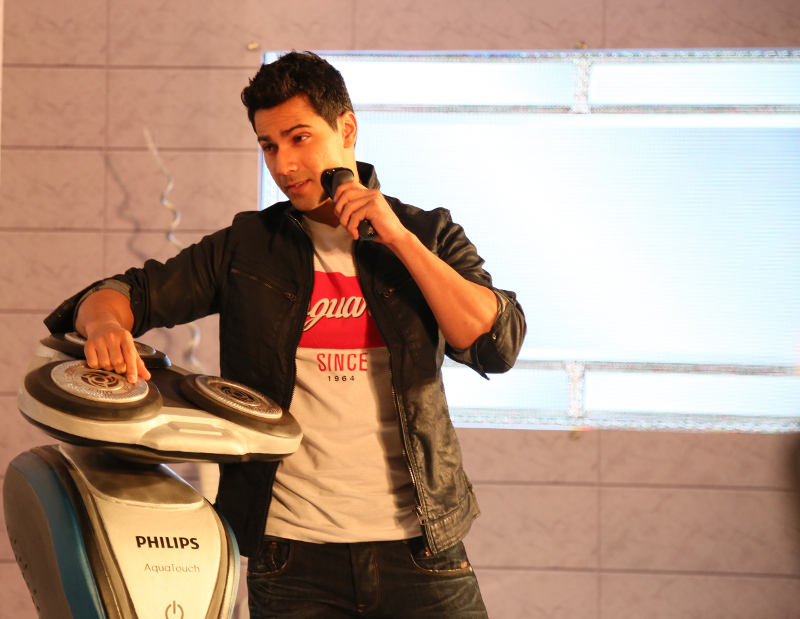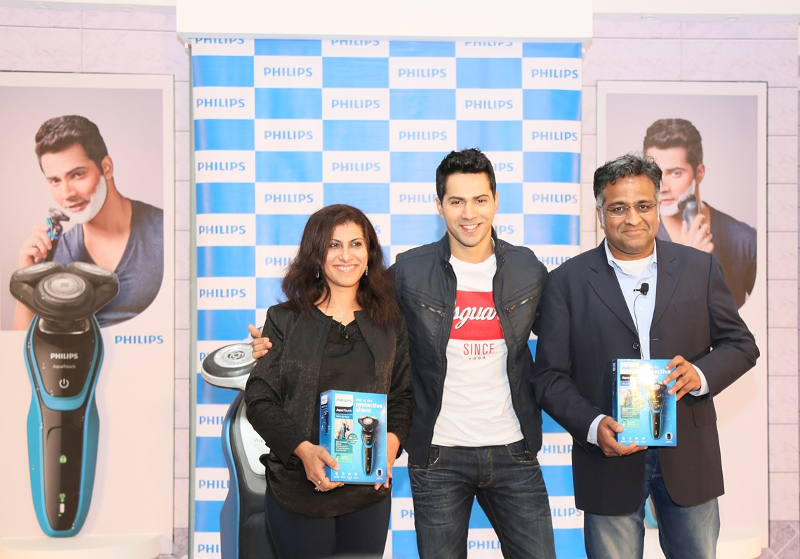 About Aquatouch Series:
Since time immemorial women have gravitated towards clean-shaven, suave-looking men.
62% men believe Electric Shavers are more Skin Friendly than razors
53% men worry about nicks & cuts from shaving
91% women get turned off with hard facial hair
The new Philips AquaTouch Shaver with Aquatec Wet & Dry innovation gives a refreshing shave, its smooth rounded profile heads glide smoothly across skin carefully preventing nicks & cuts and blends with the jawline as required. Not just that, its precision trimmer setting works on maintaining the sideburns and moustache comfortably! One full charge of the battery gives upto 30 minutes of cordless shaving. The new Philips AquaTouch is available across traditional and modern retail outlets as well as leading e-retail portals, priced at INR 4,995/-.