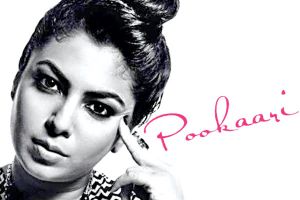 NITYA ARORA'S EXCLUSIVE DESIGNS FOR POOKAARI.COM
Pookaari.com– a premium curated fashion accessory online portal is all set to join hands with the renowned accessory designer Nitya Arora of the "Valliyan" fame and is launching a line of accessories designed exclusively for the portal. It is an eleven piece line that includes earrings, neck-pieces, hand-cuffs and head-gears. The collection goes live on the 13th of August, 2015.
Nitya is known for her esoteric style when it comes to crafting jewellery. Her striking blend of semi-precious stones, glass, crystals, metals, bright Indian hues and rare materials all combined with gold plating makes it to be the most distinctive label on the portal. The accessories promise to reflect a sculptured quality and all her pieces are one of a kind.
Nitya states, "Accessory designers work as hard as clothing designers and the buyers need to start getting more professional about buying accessories because it's a mainstream now rather than a side-kick. When I was putting together the line for Pookaari.com, my idea was to keep it design-oriented, aesthetic yet affordable so it reaches a vast audience. Pookaari.com as a brand is very proficient and amicable to work with. It was a pleasure to associate with a new set of people who knew exactly what they wanted and put their efforts to make this collaboration a one to remember!"
ShriVyshnavi Annush, founder of Pookaari.com firmly believes that this association would open fresh avenues and will play a vital role in augmenting the growth of the portal. She quotes, "I've always loved Nitya's jewellery for its boldness and its ability to make a statement. This line of jewelry is exclusively designed for Pookaari and with this collaboration I think that Pookaari is going to be a more coveted place to shop for curated designer fashion accessories. I think this will change the way customers shop at Pookaari. It will give them a chance to follow, stalk, covet and buy the most fashionable and trendy designer accessories." 
Nitya Arora of the 'Valliyan' fame
Sakshi Mehra, celebrity stylist to Sonakshi Sinha is the face of the association. Being a first for her, Sakshi is extremely elated to add beauty, style and exclusivity to this launch. "It is an excellent endeavour to get a designer like Valliyan on Pookaari – e-commerce is the future and it gives consumers access to curated accessories from different designers under one roof. Pookaari is certainly on its way to revolutionize fashion and style in the nation and across! Having seen and worn the entire line, I believe they're all fun statement pieces and can really take an outfit from casual to dressy! I had a lot of fun playing dress up, wearing all of the Valliyan pieces. There are already a lot of websites for clothing in India and a great accessory dedicated- multi designer website is just what consumers need! There are so many great accessory designers out there and having easy access to these designer pieces online holds great value."
Sakshi Mehra, celebrity stylist to Sonakshi Sinha
Sakshi Mehra, celebrity stylist to Sonakshi Sinha
Sakshi Mehra, celebrity stylist to Sonakshi Sinha
Estrada PR & Advisory curated this association for Pookaari.com. The idea came about as a medium to bridge the gap between reel and real. Tejini Kariappa, founder of Estrada states "The idea to bring ace celebrity stylist Sakshi Mehra to be the face of the campaign was to bring a sense of realism to the brand with authenticity to words like style, fashion and personality. Valliyan is the first of many associations for niche online accessory portal Pookaari. It was a conscious effort to bring something different to the table in our efforts to connect to our audience of real people who ultimately are our audience of fashionistas. Hence we wanted real achievers to tell the story through the Pookaari – Valliyan association as that is what the brand collaboration encapsulates." 
Please stay tuned to view the collection launching on the 13th of August, 2015 on www.pookaari.com