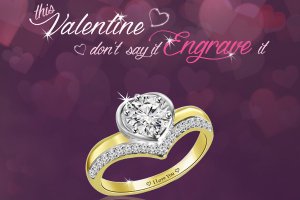 THIS VALENTINE'S DAY: 'DONT SAY IT, ENGRAVE IT' !
Now what makes an awesome Valentine's gift? If you have perfumes, flowers or cakes in mind, you're definitely living in the last decade.
Let me give you a hint. An awesome gift is a gift with a personal touch. A gift that is customized to your partner's taste to show how much you care about her. A gift she can cherish and most importantly, hold onto all her life. Connect this with women's love for solitaires and Voila! You have the answer: the dream gift to give to your girlfriends and wives this Valentine's Day. Solitaires with engraving of your choice!
Fiona Solitaires, the perfect solitaire brand,  is offering customized engravings (initials of your woman's name or a message or simply 'i love you') on gorgeous solitaire jewelry to make your Valentine's Day the one to remember. This year, you just watch while the beautiful solitaires do the talking. Can make things easier for men who are not so good with words. Imagine proposing to your girlfriend for marriage with a dazzling ring or pendant and a touching message engraved on it. That will be One Helluva Valentine's Day 😉
All you need to do is:
Log on to www.FionaSolitaires.com or visit Fiona Solitaires store – Select a piece from the amazing collection they have – Give them the initials/name/message to be engraved – Go out shopping for yourself (you too need to be dressed up for the special day…right?) – Come back to the Fiona store – and there you have it! The solitaire in all its beauty, ready to adorn your woman.
Whats more…You get lifetime warranty along with a certificate and 100% buy back (provided you have bought the jewelry from Fiona store).
Valentine's Day is just around the corner so rush and pick up the best gift ever for the one you love 🙂  Just remember, the mantra for this V' Day is 'Dont say it, Engrave it' !