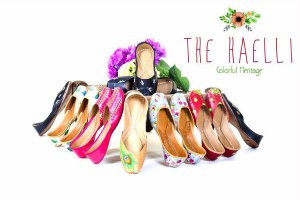 THE MODERN JUTTI
I have always loved juttis because they speak the traditional language in the most contemporary way. They can totally uplift a (boring) outfit and can so much bring out your individual style. I have always worn them with Indian outfits as well as with fusions. Although I had kind of grown out of them. You know what I mean? Like just get bored of a style or trend and then you move on to something else.
And then I discovered The Haelli. One of its kind! Why? Because they customize and hand-paint juttis for their customers. And that is just so cool!
The prints are so cute and adorable. I have always been a fusion kind of a person and love mixing trends. And these juttis give me that option and much more. You can wear them with your Indian outfits (duh!) and with long kitsch skirts (dun again!) and guess what? You can wear them with pure western outfits with as much panache. And trust me…they do justice to every kind of style and personality. They are cool, absoloutely comfortable and so stylish.
Juttis with colorful, cute melon prints or bees-flying print or beetles-walking print or the butterfly print… take a pick. There is a pair for everyone 🙂