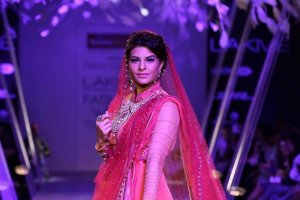 LFW SUMMER RESORT 2014: TARUN TAHILIANI
Tarun Tahiliani is best known for his contemporary and highly innovative drapes and this collection was no exception. Starting with black & white drapey slouchy pants and jumpsuits teamed with embellished waist-coats packaged sultry-bohemian, the collection moved on to men in kurta churidars styled with chic sleeveless waist-coat, shawl and peshawari mojdis. The idea of waist belts for women was great to give the easy slouched drapes a feminine edge. I found a very strong kamasutra-ish touch in women's make-up and hair. The embroidery on backs of anarkalis and saree blouses was simply stunning. Sheer nude-gold anarkalis and lehengas covered with highly detailed embroidery brought relaxed, confident glamour. The best was this very sultry lavender saree-gown number cut mermaid style with boho tassels at the bottom and knitted-embroidered bolero shrug. Jewellery in collaboration with Reliance was just the right garnishing.
And ofcourse Jacqueline Fernandez, the showstopper made everybody sit up and take notice of herself in beautiful peachy red anarkali with purple detailing and a structured mandarin collar. And the bling in form of small gold sparkly flowers edging the dupatta was just the right touch.
Key Elements: black & white, nudes, gold, embroidery, sultry, bohemian
Banner Image Courtesy: thebigfatindianwedding.com