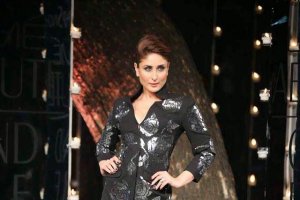 LFW SUMMER RESORT 2014: RAJESH PRATAP SINGH
Watching Rajesh Pratap's grand finale online with the retro-disco-married-to-futurism ramp instantly took me back to the song Living in Video. While using mirrors to literally denote Illusions, the theme of his collection, Rajesh Pratap singh also layered his designs with a touch of both retro and futuristic to talk figuratively about past and future as nothing but illusions. The show opened on a highly dramatic note with models walking in the dark wearing sculpted helmets lit on the inside and parading around the strategically placed mirrors.
With the collection woven around the latest Lakme Absolute Collection of metallics, every yarn of every ensemble breathed of experimentation. Soft pastels turned metallic through metal yarns woven into the fabric, the trend of color-blocking which has been fading away lately was executed from a completely different perspective. Metallic belts were used to define waistlines and then there was metal to enhance seams to reinforce the structure of the garment. Men came in chic metallic suits and kurta-churidars with blazers and women came in chic hour glass dresses, pleated skirts, capris, blazers and boleros. Metallic/shiny mosaics and stripes were applied to surfaces and the straight structured cuts of the garments balanced out the shimmer. Exaggerated round glasses, long crystal earrings in one ear and cropped silky hair, all lent dramatically to the theme of illusions.
Kareena kapoor with all the oomph in the world wore a stiff long black dress with silver metallic roses all over.
More than anything else, Rajesh Pratap Singh with Lakme made a great collaboration and the result was a visual delight in every way!
Banner Image Courtesy: sareesvilla.blogspot.in