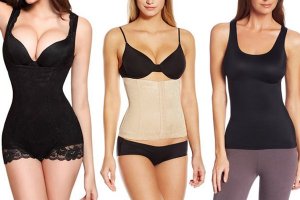 BEST SHAPEWEAR SOLUTIONS FOR EVERY WOMAN
I laid my hands on Ryaal Black Mess: mask, scrub and cleanser, Mr Beans: exfoliating scrub mask and Vitamin C serum only about a few weeks ago. And they have already helped my skin a great deal in staying smooth, healthy and supple.
While size zero is considered (and probably is) highly aspirational, the fact is not all of us want to cut down on carbs (and beers), work out 5 hours a day and do 100 squats/crunches/yoga daily to get that size. But what we do want is, to look fit and toned. We can live without a bodycon dress, all we ask for is that our bodies look a little shapely. At the right places. Esp. on special occasions. And women who have gone through delivery, this ask is not a luxury but necessity.
End of the day our wishlist includes that our muffin top doesnt show (as much), beer belly doesnt show (at all) and our waist looks hour-glass (just a tad bit). And the answer to all our wishes is Shapewear.
So just in case, you are wondering which shapewear to buy,  let me give you 6 kinds of shapewear for women :
1.  Waist-Cincher: This kind of shapewear sculpts the body and highlights the waist making it look more hour-glass. It is equally effective in minimising muffin-tops and goes best with bodycon dresses. Buy waist cincher on Zivame.
2.  Tummy Tucker: These are high-rise panties that sit above the belly button. They do the best job of tucking the tummy in and giving the appearance of a flat stomach. Buy tummy tucker on Zivame.
3.  Saree shapewear petticoat: These knitted long skirts are designed to keep the abdomen flat and the stretchable waistband helps to keep the saree tucks intact. In short, petticoat shapewear helps the saree look much more flattering. Buy shapewear petticoat from Clovia.
4.  Thigh Shaper: This is great to trim down extra flab on tummy, mid-thigh, hips and back. Will help your lower bottom look toned. Buy thigh shaper on Amazon
5.  Bodysuit Shapewear: Bodysuit helps in overall compression of muscles making you look leaner while also providing support to breasts. Bodysuit works extremely well under fitted garments. One of the best tummy control shapewear. Buy shapewear bodysuit on Zivame.
6.  Strapless Shapewear: This does the job of both waist cincher and bodysuit and is most appropriate to wear under strapless dresses/tops. Buy strapless shapewear on ebay.