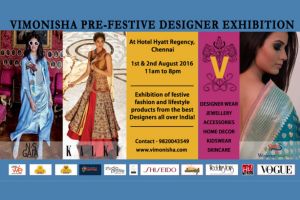 THE VIMONISHA PRE-FESTIVE EXHIBITION FOR BRIDAL AND PRET WEAR ON 1ST & 2ND AUG 2016 AT HYATT REGENCY, CHENNAI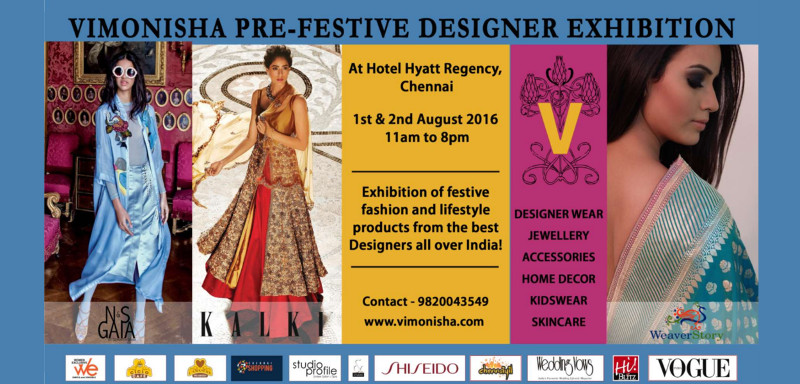 As Vimonisha Exhibitions celebrated its 112th h edition and 25 years of fashion exhibitions in Chennai, discerning fashionistas and shopping divas of Chennai converge at the Hyatt Regency to pick the best of designer wear and jewellery at the Vimonisha Exhibition with the seasons best pick of designers from Dubai, Mumbai, Delhi, Kolkata, Hyderabad, Jaipur, Bangalore and more! The best Indian fashion designers from the fashion industry and participating fashion week designers and others will be present at Chennai's fashion event especially curated and put together by Monisha Gidwani fashion and brand strategist and CEO Vimonisha Exhibitions.
Beginning their 25 year incredible journey in Chennai with exhibitions curated by the mother daughter duo Vimal Shivdasani and Monisha Gidwani from the modest but hugely popular Vimonisha Gallery, which was a favourite shopping haunt spot for the fashionably forward and designer aspiring Chennai-ite, to the dazzling grandeur of Vimonisha's current exhibitions held thrice a year at the Hyatt it has been an incredible and inspiring journey. Today Vimonisha Exhibitions has earned itself the ubiquitous reputation of being the leading exhibition in Chennai where ladies flock in hoardes to get their bit of fashion therapy.
With an impressive line up of more than 65 designers this season, the Chennai ladies have a lot to choose . A two day fashion extravaganza with many goody bags and hampers to be won from Shiseido, Vogue magazine, Ciclo café, L'amandier, bridal shoot offer from And Stoodio, Studio Salon and Spa.
The look for this season's bridal and pret-wear is all about monochrome and textures of different fabrics. Attention to detailing, trimmings and accessories that go along with the silhouttes and drapes are key to the creations. Its not enough to have a good outfit- what is equally important is creating a whole personalised look for clients. That is where a stylist steps in- Monisha's personal wardrobe and look for the exhibition will be put together by renowned stylist Shalini Mehta from Mumbai .
Vimonisha Exhibitions is also proud to have tied up with Sonal Khatri Somani who is an image consultant and also runs a style box called MBD Style Box (www.mbdstylebox.com)
New designers at the Vimonisha Pre-festive Designer exhibition are NS Gaia, Suave by Neha n Shreya, Soup, Kalki, Preeti Jhaver,Garima Modi, Sonali RV, Mayori-Jaipur, Pink Mirror, Tanaya& Oiswarya Pret, Andaaz by Jyoti Dhawan, RIMAYA, Kalakari, Mahnoush,Vayuu by Osaa, while favourites likeWeaver's Story, Alankrit Lucknow, Radha's Tradition, Nazar, Aalankrit, Vishal Kapoor, Samaroho, Rumourss,ramanian ,Threads, Elegance ,Stree Collection.
The festive  and bridal look is never complete without precious and semi precious jewellery to accentuate and complement the outfits. A wide range of classic and modern chandelier earrings, chand balis, cocktail rings, and young funky jewellery to choose from brands like Argento, , Sunflower, Desi Bijouu, Studio SRG, from Mumbai, , Fireflies, Boondh.To finish off the look is footwear by Madelyn, Bottomline,Fidaa. Skin care products by I Am Home made and home décor too.
Suave the Kolkata based label focusses on creating fuss free occasion wear for the woman who doesn't need bling to shine. Their simple and earthy aesthetic, sharp tailoring and attention to detail sets them apart from the rest. The Brand N&S GAIA means Nature & Sustainability with revered guidance of Mother Nature, inceptor and creator – GAIA, the primal Greek Goddess.
N&S GAIA was launched with the support of the Department of Handlooms, Government of Meghalaya at Lakme Fashion Week Summer Resort 2014, and has continued showcasing at LFW Winter Fest 2014. The brand has been nominated for 2015 International
Woolmark Prize most recently. N&S GAIA is stocked at Luxury retail stores like Ogaan, Evoluzione, Creo , Goodearth, Weavers Studio and Bombay Electric to name a few.
Staying true to the brand's unique promise of premium and wearable fashion, KALKI unveils fresh collections and all-new designs throughout the fashion calendar. KALKI's design and aesthetic sensibility seeks inspiration from all walks of life – be it haute couture trends and forecasts from fashion destinations across the globe to the homebound handloom traditions of India.
KALKI's couture and prêt lines feature ensembles that showcase innovative fabrics, prints, and colors. Modern silhouettes, cuts, drapes, and embellishments transform these into the seasons trendiest must-haves and timeless couture. A distinct range of contemporary Indian wear and Fusion wear styles finds favour with the globetrotting, modern Indian fashionista. As Bridal Trousseau specialists, KALKI offers every bride a bespoke experience. Fashioned from fine fabrics, prints, and colors, the collections showcase hand-worked embroidery and surface ornamentation. Silks such as Tussar and Banarasi Silks, French Lace, Velvets, Net Jacquards, Shimmer, are further enriched and embellished into the season's must haves and timeless couture. From luxurious bridal heirlooms to elegant baraati styles – motifs, silhouettes, colors, and fabrics are fashioned into exclusive contemporary couture.
All this and more at Hyatt regency on 1 st and 2 nd Aug 2016. Monisha Gidwani can be contacted at 9820043549 email [email protected]