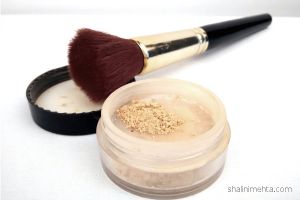 BELLAPIERRE MINERAL POWDER
I would have never moved to mineral foundation if it were'nt for Fab bag. Not that I have any issues with mineral powders but I'm just a little slow to change (yeah, thats me). Besides I was happy using Studio Fix which does a great job. But anyway, so Bellapiere came my way, in cinnamon flavour and I'm so lucky to have received this product in my bag.
So I moisturize my face, apply primer and then concealer under my eyes (talk about dark under eyes) and work it with this lovely powder. I like to use the kabuki brush as it gives great coverage. It was also a lot of fun to understand the mechanism, how I have to turn it upside down (with the lid ofcourse) and tap it so that a bit of the powder comes out on the lid which is then good to use. Very interesting 🙂
Apparently, its a 5-in-1 foundation:
• Concealer
• Foundation
• SPF
• Finishing Powder
• Setting Powder
Ingredients: Mica, Titanium Dioxide , Zinc Oxide , Iron Oxides.
May contain: ultramarine
My experience: Has been fabulous. I have a fair-to-what complexion with red undertones and the cinnamon flavour works just right for me. It is finely milled, has great coverage and a very small amount of it is enough. A great buy and I will definitely recommend it.
Price: I got it in my Fab bag so it worked out very reasonable. You can also get it for anywhere between 2,000/- to 2,500/- at amazon.in
I will rate it 4/5
Do tell us which foundation/powder works best for you.