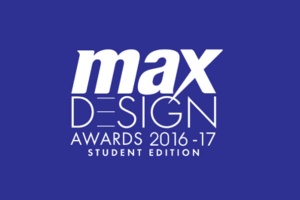 MAX DESIGN AWARDS 2016-17 STUDENTS' EDITION
Max Design Awards are back yet again with their third edition. One of the best platforms in the country that recognizes and rewards budding fashion designers, is closing in on entries for 2016-17.
The property created by Max Fashion gives pre-final and final year fashion design students the opportunity to showcase their talenent.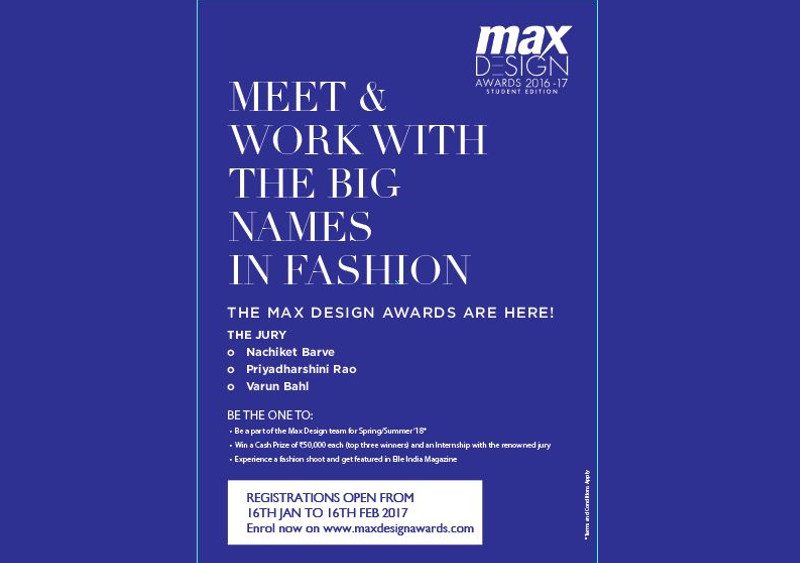 Last year the competition attracted more than 200 entries over 40 design colleges across the country. We're sure that this year too, we'll see design colleges gearing up to showcase their best talent.
This year, the jury will include fashion designers Priyadarshini Rao, Varun Bahl and Nachiket Barve along with Vasanth Kumar, the executive director at Max Fashion.
Registration for the award programme is open. Check here to register –
http://www.maxdesignawards.com/participate.html
Who can sign up?
Final year Fashion Design students from selected and or accredited fashion designing institutes of India.
How do you participate?
The theme for the Max Design Awards 2016-17 is "The Dark Side"
Step 1: Select any one category – Men's wear or Women's wear. Prepare a mood board of your interpretation of the main theme.
Step 2: Based on your mood board, prepare two sketches.
– One sketch for prêt
– One sketch for Couture
Both sketches need to fall under any one category (men's wear or women's wear) selected by you.
Step 3: Prepare a 150 word count brief on your collection. Outline your colour pallet, fabrics, style, patterns, etc. for each of the designs
Step 4: Register yourself on www.maxdesignawards.com and file in your application OR apply by emailing high resolution scans of your sketches, mood board, along with a 150 word count brief on your interpretation of the theme "The Dark Side". Email at maxdesignawards@gmail.com
Last Date for receiving the Entries/application is 16th February 2017
Step 5: It is mandatory to send the physical docket (Mood board, Both sketches and write up with fabric swatches to –
Krupa Kini/ Ranganathan V
Lifestyle international private limited
Max Retail division
77 degree town centre,
Building no.3 east wing
5th floor, Off old airport road
Yemalur P.O. Bangalore – 560037
Last Date for receiving the physical docket of the Entries/application is 20th February 2017
Send in your entries NOW!!!