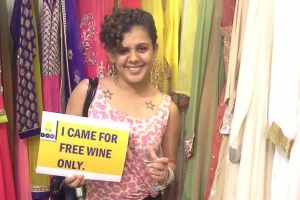 A STYLISH EVENING AT DVAR, MUMBAI
With wine and cheese to indulge in and lovely clothes & accessories to try one….what more could one ask for…and that too on a Saturday evening 😉  This lovely, fashion-filled evening was organized by DVAR, a multi-design house located in Juhu, Mumbai. FYI, DVAR features the best of haute couture, luxe, bridal, ethnic and contemporary wear and the mastermind behind this luxury fashion-store are Vijayta V Gandhi and Parth M Sanghvi.
The store has a great variety of clothes ranging from bridal to evening and from lehengas to sarees to quirky print dresses. Also stocks silver jewelry with semi-precious stones….not a huge variety but some really nice designs in good quality. And ofcourse their clutches. They were very interesting. Great to team with sarees and evening gowns. Most of the clothes and accessories here are kind of steep like high-priced but then, thats what luxury stores are all about…right?
So anyway, I loved this animal print saree in shades of pink and lavender with a peach border, designed by Vijayta, one of the co-founders, but since I was wearing an animal print top already (oh by the way, the theme for this evening was 'animal print' 
) I was a little apprehensive. I feared that it might look too much. But then I decided to give it a shot. And it worked pretty well. And since I had teamed an animal print saree with animal print blouse (which is anyway OTT) I thought I might as well go all the way. So I picked up this really bold, royal-looking statement necklace and teamed it with a crystal studded star clutch…very quirky.
And lo! All ready to set the house on fire 😉