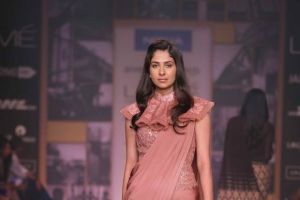 RUNWAY REPORT: LFW SUMMER RESORT 2014: SHANTANU & NIKHIL
Shantanu & Nikhil's Summer Resort collection 'The Shadows Within' was a collection with romantic, vintage appeal, where, for the most part, the vintage reference was Victorian fashion. Details like flounces, row of multiple buttons, lacey frilley mitts, long voluminous gowns were all indicative of the bygone era. So were peplums which I believe were less for the trend and more for their Victorian feel. At some point, the collection even went as far back as the 1500s with women wearing contemporary versions of ruffled/frilled collars on their dresses and lehengas.
Starting with long, sleek, no-frills silhouettes in bright red and chocolate brown, the collection very effortlessly moved on to dramatic and frilly in romantic hues like dusty rose, golds and beiges.
Men came in bundies, bundgalas, sherwanis in raw silk, and the very interesting & innovative cowl hemmed kurtas. A special applause to that !
Women came in long and short dresses, hourglass dresses with short pleated cape, sari-gowns, prestitched saris, long dresses and skirts with multiple asymmetric layers and flounces, tea-gowns and a lot more with frills and high & embellished collars as the consistent plot throughout. The one number that simply stood apart for me was this strapless brocade jumpsuit styled with a casually draped dupatta and a box clutch. Very chic!
The entire collection was delicate and feminine from head to toe and everything about women, from their makeup to hair, their walk, body language to how they posed in front of the camera…it was all so ladylike !
Banner Image Courtesy: boutiquesarees.com